What's New? January 2014
Introducing Ottawa's Tibetan newcomers, January 2014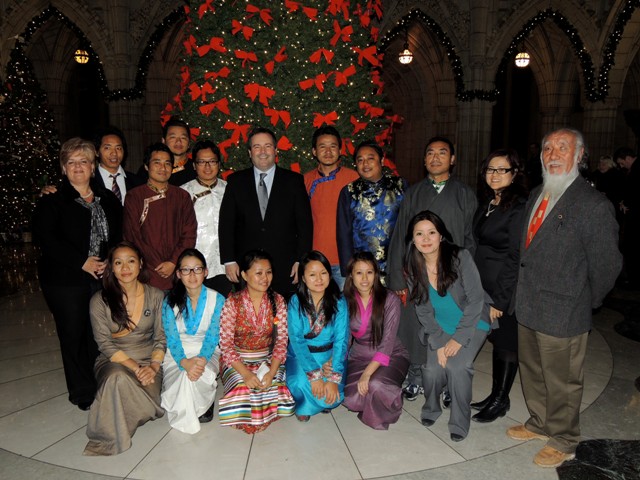 Jason Kenney, Minister of Multiculturalism, welcomes the first arrivals to Parliament Hill.
Message from the first arrival group
"First and foremost, we would like to wish you all and your family a very Happy New Year – 2014. Indeed, we are very grateful and thankful for all your unconditional support to get into our new home country: Canada. We do hope for your constant support in the future as well. Our heartfelt thanks to all of you once again for everything you have done for us. May God Bless."
Employment news for the first arrival group
The 11 Tibetans who arrived in December are getting settled, exploring our city, getting help from our partner (Catholic Centre for Immigrants) and others, and actively looking for work. Three have already landed full-time positions, some have part-time jobs and the rest are still looking for work. Right now, they (and we on their behalf) are seeking entry-level jobs. When they are firmly settled and have acquired Canadian working experience, we expect they will aspire to higher-level jobs in their fields.
Below, we profile each of them, highlighting their education, experience and the jobs they seek or have already. 
We would greatly appreciate any referrals to potential employers.
Other News
Fundraising a #1 priority
Fundraising plans are underway to support the Tibetans arriving in April and August to begin Year Two of the program. Our challenge is to raise $75,000 over the coming months. Donations are welcome!
Ottawa Tibet Film Festival
Circle March 21 and 22 on your calendars! More details available on the festival's website: http://ottawatibetfilmfestival.com/
Tibetan New Year (Losar) Event on Friday, February 21
Losar is a festival celebrated worldwide by Tibetan Buddhists. For details, please see the event poster on the homepage: http://trpo.aum.ca/
Meet the members of the first group
Chime Palden
Objective: A position in a warehouse as a stock person or in shipping and receiving
Experience: 25 years in supplies and inventory; supervised more than 30 staff
At present:  Needs more work leads -- please help if you can.
Tenzin Tsering
Objective: A position in a restaurant, hotel or other establishment
Education: Diploma in agronomy; agriculture extension officer training
Experience: Agricultural project manager (organic farming); restaurant manager
At present: Needs more work leads -- please help if you can.
 
Dorjee Dolma
Objective: A position as a housekeeper and/or child-care provider
Experience: 4 years' experience as a full-time housekeeper; 10 months' experience as a child-care provider
At present: Has started work in a retirement home
Dawa Norbu
Objective: A position in business and development, sales or marketing
Education: Masters of Business Administration
Experience: business management; market surveys and analysis
Gyaltsok
Objective: Open to a position working in a variety of establishments
Education: Bachelor of Arts.  Experience: high school principal; high school teacher; tutoring
At present: Has started work in a restaurant
Lhakpa Tsering
Objective: A position in the hotel, food and service industries
Education: Bachelor of Science, Hotel Management
Experience: Dietary Supervisor in a hospital; hotel supervisor
Tenzin Chonzom
Objective: A position in a healthcare sector
Education: Bachelor of Arts; Diploma in general nursing and midwifery
Experience: Over a year caring for a physically handicapped senior; 7 years' experience as a general ward nurse, general surgery nurse and pre- and post-operative nurse
Tenzin Tsangyang
Objective: A position in the software industry using his extensive experience in SAP-BI
Education: Bachelor of Engineering (Honours) in Computer Science and Engineering
Experience: Extensive experience as an SAP consultant for major international companies
Tsechu Dolma
Objective: A position as a kitchen helper, sous chef, server or housekeeper
Education: Bachelor of Arts, Hospitality and Hotel Management; training in culinary arts at a 5-star hotel.  Experience: Restaurant cook, restaurant hostess
At present: Has started work in a restaurant
Tsechu Lhamo
Objective: A position as a kitchen helper, sous chef, server or housekeeper
Education: Bachelor of Arts, Hospitality and Hotel Management
Experience: 3 years' experience as a waiter in 5-star hotels
Tsering Tsamchoe
Objective: A position in the hospitality sector or in bookkeeping
Education: Bachelor of Arts
Experience: Chief Accountant Officer; restaurant hostess in an upscale resort