What's New? July 2016
In this issue: * Project update: end-dates, employment situation, housing, language learning, children's summer activities, health insurance, * Volunteers needed to assist newcomers, * Donations: in-kind, Film Festival, Obasan, * New Board member Sarah Harris, * Tibetan community news: high school grads, Tibetan Community Association
Project update from the Chair
We have passed our first end-date!  By May 11, 2016, we had submitted to Immigration the final 11 sponsorships for Ottawa-bound newcomers, including three small families.  No more sponsorships are possible under the Temporary Public Policy governing this project. 
While most of the candidates for this project were selected by lottery, the last group were identified because they had neither close relatives in the project already, nor the means to contemplate normal emigration. 
The 11 bound for Ottawa are to be interviewed during July 2016.  Nine other persons were partially cleared in the past.  These people are waiting to get final permission to travel.  So we are now waiting for 20 more people to come to Ottawa, for a new grand total of 98!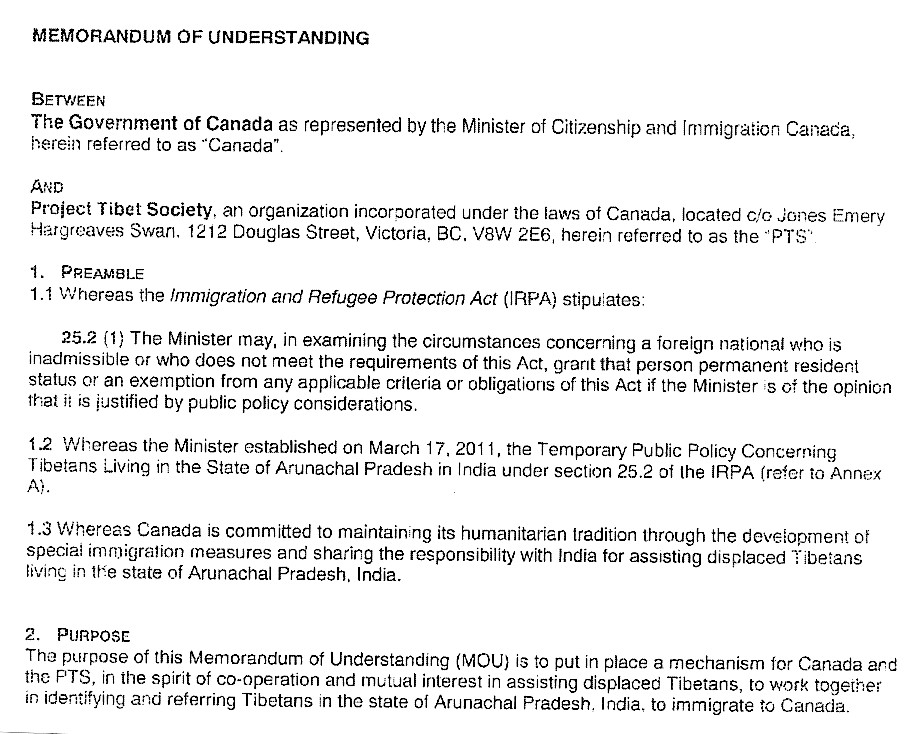 May 11 was the fifth anniversary of the signing of the Memorandum of Understanding between Project Tibet Society (our parent organization) and Citizenship and Immigration Canada (now called Immigration, Refugees and Citizenship Canada). That agreement established the program to bring 1,000 stateless Tibetans from Arunachal Pradesh, India, to five cities in Canada.  Click on the image to view the whole agreement.  Without Project Tibet Society, there would be no project in Ottawa!
We expect all 1,000 to be in Canada before the end of 2016 – that will be our second end-date.  We are responsible for new arrivals for one year from the date of arrival – that will be our third end-date.  TRPO then expects to wrap up its operations and pass the torch to our colleagues, the Ottawa Tibetan Community Association.
How far we have come!  Since fall 2013, we have welcomed and assisted 78 Ottawa-sponsored Tibetans. As of the end of July, 49 have been in Canada longer than one year.  These people are no longer our formal responsibility.  But in fact, our project would not be the success that it is without the ongoing efforts of the newcomers who have already been here a year! 
Not all 78 newcomers are in Ottawa – 17 have moved to Toronto or Alberta for work, and to be with relatives.  Many moved after completing a year in Ottawa and becoming fully independent.  Others moved during their first year, and were required to make formal agreements with their relatives.  These relatives received them and agreed to assume all settlement responsibilities for the rest of the first year.  But still – 61 newcomers are now living in Ottawa, including 7 families with children, and of course one with a Canadian-born child. We also note that a few Tibetans have moved in the other direction for work: from Toronto to Ottawa.
Changes in the project 
Of late, the employment situation in Ottawa, especially for entry-level work, has gotten much more difficult.  We are constantly striving to find job leads.  But we have rarely been able to find jobs beyond our limited personal connections.  The best jobs would seem to be those in small factories (for mattresses and marble counter tops), in hotels, restaurants and retirement homes, or in the cleaning industry.  Are there other businesses out there that offer full-time work with benefits?  Perhaps there are affordable training programs that will open the door to other jobs.
Can you, dear reader, offer any job leads or help?  Contact Cornelius von Baeyer at cvb@magma,ca, or get in touch with our employment team: Sarah Hafez (hafez.sarah@gmail.com) and Tracey Filby (traceyfilby@outlook.com).
Another trend is in housing, namely the move to 2-bedroom apartments in Capital Towers where the majority of newcomers live, rather than renting 3-bedroom apartments as in the past.  This offers newcomers a better quality of life, but will require some additional assistance from the In-Kind committee that furnishes apartments.  It will also limit the number of new arrivals who can be housed in existing apartments, and necessitate TRPO renting more apartments for new arrivals.  We believe we are quite well prepared on those fronts, but will keep watching developments.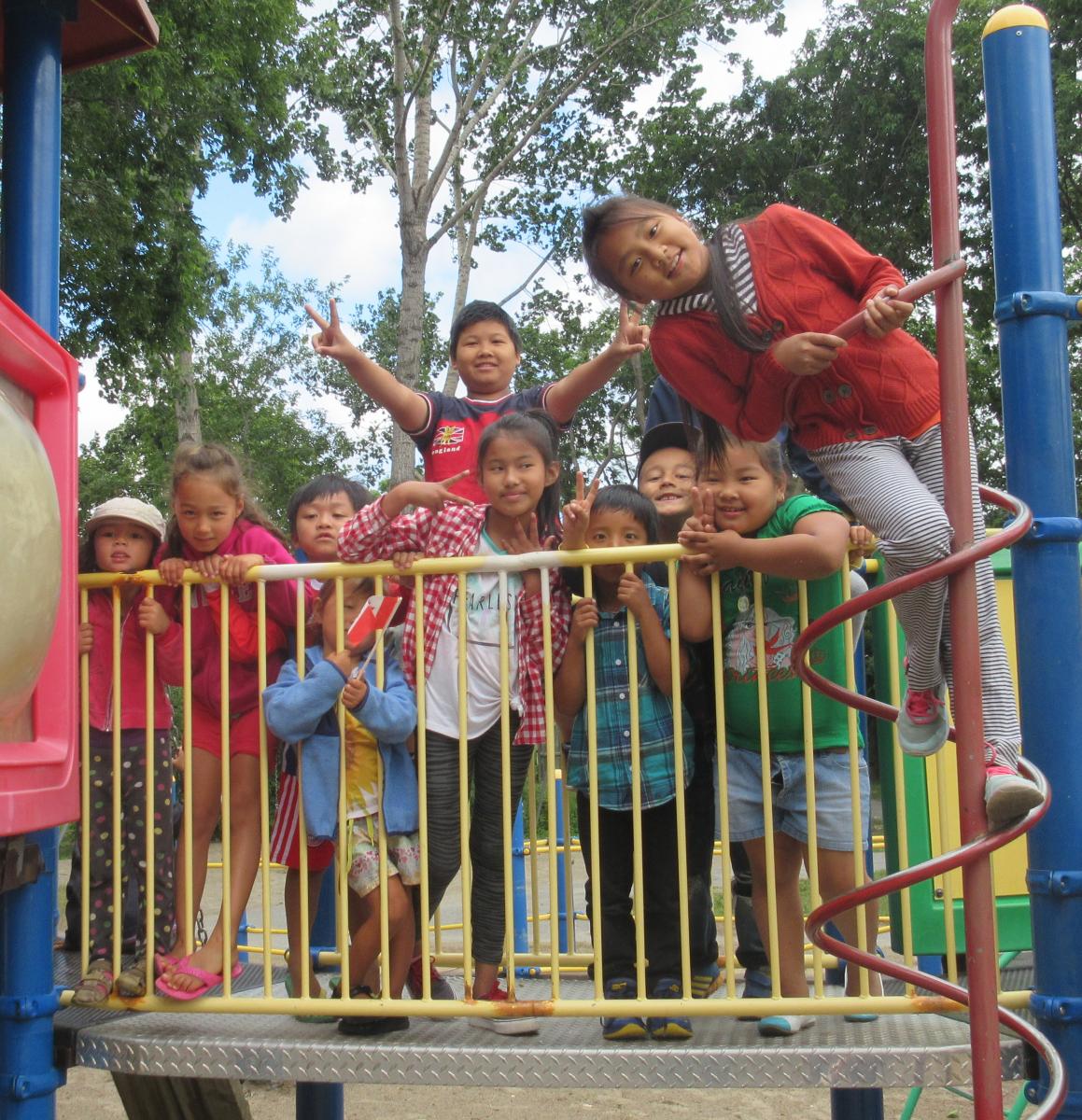 Language learning.  We noted in our February newsletter that a Tibetan-language Saturday-morning-school for children had been started.  This is doing well, by all accounts. Here is a photo from the end-of-term picnic. English, French, Tibetan and Pemako were all heard in the playground. (The newcomers from Arunachal Pradesh learn standard Tibetan at school, and speak the Pemako dialect at home.)
We have also begun English conversation groups for adult beginners under our volunteer Prinon Rahman, and for intermediate adults under our Board secretary, Sarah Harris.  The need is for conversation practice at times of the day that do not interfere with jobs, and is less formal than ESL classes.
Summer activities for children. Several parents and mentors are working hard to find suitable activities for children over the summer holidays. There will be plenty of time for free play, but the children should also be meeting peers and using their English in the context of fun activities.  A generous donor has come forward with seed money, which will go toward registration fees. (Thanks Brian!)  Further donations will be gratefully accepted (contact Jack at jack.gilmer@rogers.com).  In future, we plan to organize this activity earlier in the year.
Health Insurance.  A dry, but very important topic!  The new Interim Federal Health (IFH) program that came into force on April 1 covers our newcomers for the first 90 days in Canada with basic coverage (like the OHIP they will get after 90 days).  It also covers them for the first year in Canada for medications, emergency dental, and vision care.  This will be a great help to our project. 
We have also discovered the importance of Healthy Smiles, an Ontario program that covers all child dentistry (routine and emergency) until age 18.  Several children have already needed extensive dental work.
The Board, the mentors and the volunteers.  It is a privilege for me, as Chair, to work with such dedicated individuals.  There are so many people providing so much volunteer effort and resources that together we are making our project's successes look easy.  Thank you!
When the Syrian refugee plight seized the imagination of the world, their program quickly caught up with ours, which had been going for several years by then.  Since those days, their program has sometimes gotten ahead of ours (thanks for the new IFH rules!), and sometimes lags behind (for example, very large per-person costs). But overall, the support for refugees and immigrants has certainly changed for the better.
Volunteers needed to assist newcomers
As newsletter readers will be aware, we are eagerly anticipating the arrival of our 20 remaining Tibetans by the end of 2016 at the latest.  But to help ensure the smooth arrival and resettlement of these individuals, we require more mentors.  Many of you have undertaken this role in the past and we hope that some of you can volunteer one more time.
Mentors play a key role in helping Tibetan newcomers in their adaptation to and success in Canada.  Your role of Mentor would include, but would not be restricted to, meeting a newcomer upon arrival at the airport, accompanying him/her to medical tests and helping develop community networks, and understanding what support and other services are available in Ottawa. 
It is hoped that a Mentor will provide a three month commitment.  The amount of assistance a newcomer will initially require will depend upon a variety of factors such as family size and English language skills.  Being adaptable, open-minded, able to improvise and, of course, welcoming are all important aspects in the rewarding and important role of Mentor.
Please rest assured that a team of TRPO volunteers is already in place to support you when you have questions or concerns, should you choose to become a Mentor.  We have also prepared a Welcome Kit in English and Tibetan which provides useful information for our new arrivals. Experience has shown that those mentors with their own cars are more easily able to undertake the various mentor functions.
If you are interested in becoming Mentor to an individual or family or have questions, please do not hesitate to contact Paul Bennett during the day or evening at 613/237-1559 or by e-mail at paulbennett100@mail.com  
Donations
As far as in-kind donations are concerned, the interim storage unit is looking good! This is in large part due to a wonderful donation of tables, chairs, bookcases, and dishes from the Ottawa Palyul Buddhist Centre which was in the process of moving. We wish them all the best in their new location. Still in demand: gently used sofas, dressers, small microwaves, and rice cookers. Sofas would need to be kept by the donors until we hear the date for the next group of arrivals, but we can always find space for another dresser. 
Ottawa Tibet Film Festival
Our deepest thanks to the festival for their donation of $1,000 of the proceeds of the event.
Obasan
TRPO extends its grateful thanks to Obasan, a bed factory and display area located on Colonnade Road in Ottawa.  Due to the generosity of the founder and owner Jean Corriveau, some thirty Tibetan newcomers are enjoying very comfortable new beds, made entirely from organic materials and Forestry Stewardship Council certified wood. In addition to these exceptional contributions, Obasan is also employing two Tibetans full-time.
New board member
TRPO is delighted to welcome Sarah Harris as secretary to the board. In addition to her duties as secretary, Sarah is serving as an English conversation group leader, and helping with job placement. Sarah graduated from Carleton University in April 2014 and is currently working at the Métis Nation of Ontario. She has been involved with a number of volunteer initiatives such as English tutoring for new immigrants, and as an advocate for education and sport in Ghana. In addition to being a dedicated volunteer, Sarah brings strong relationship-building, administrative, and computer skills to the board.
Tibetan Community News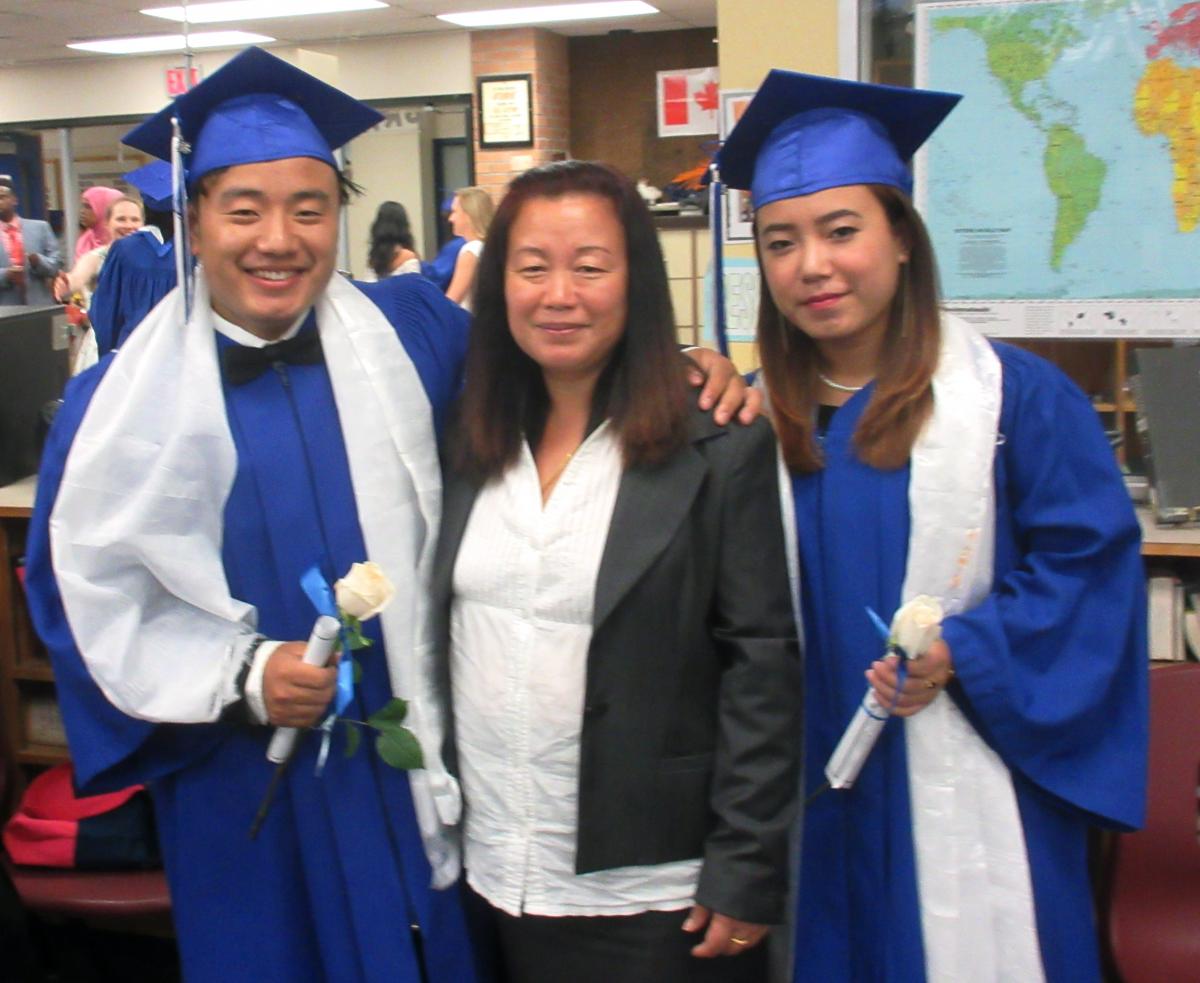 Congratulations to our first high school graduates!
On June 30, 2016, TRPO reached another important milestone — our first high school graduates!  Tenzin Tsering (left) and Tenzin Kunsel (right), both children of Kalsang Dickey (middle) and Chime Palden, who arrived in early 2014, received their Ontario Secondary School Diplomas from Rideau High School. Kunsel received two Subject Awards, one in biology and the other in English.  Her brother, Tenzin, got the George E. Lemaire Award for contributions to sports and sportsmanship.  They are both off to college in the fall. Congratulations to the graduates and their parents! (And a pat on the back to TRPO.)
Ottawa Tibetan Community Association (OTCA)
In late April, Tenzing Jigme, Sonam Sangmo, Tsechu Lhamo, Gyaltsok, and Tenzin Wangdak were elected to serve on the OTCA board. Six others will shadow these elected board members: Jurme Wangda, Samphe Lhalungpa, Pema Namgyal, Dawa Ghoso, Chime Palden, and Kunsang Wangchuk. TRPO wishes them all well as they guide the community through the coming year.
If you have any comments or questions, or want to help in any way,
we'd be delighted to hear from you!
Cornelius von Baeyer (cvb@magma.ca), Josée Filion (trpovolcoordinator@gmail.com)
and Val Swinton (vswinton2@icloud.com)
Previous Newsletters
January 2014
March 2014
June 2014
September 2014
November 2014
March 2015
July 2015
November 2015
February 2016